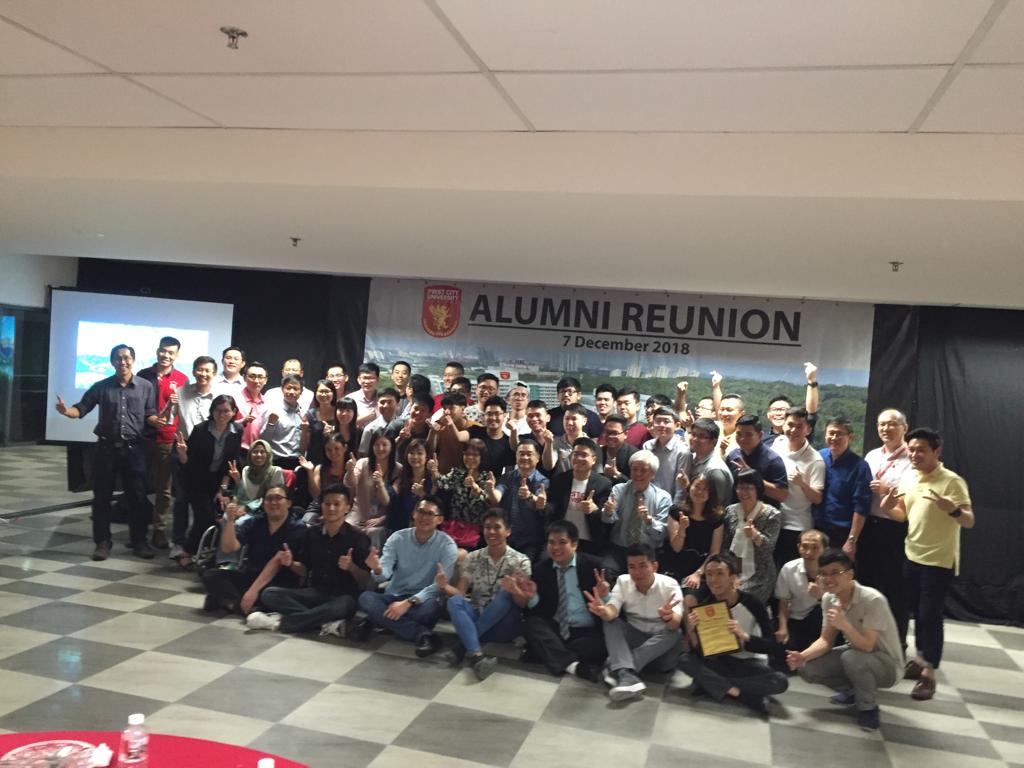 FIRST CITY UNIVERSITY COLLEGE 2018 ALUMNI REUNION: TAKING A TRIP DOWN MEMORY LANE
FIRST CITY UNIVERSITY COLLEGE 2018 ALUMNI REUNION: TAKING A TRIP DOWN MEMORY LANE
PETALING JAYA, 19th December, 2018 – First City University College held its 2018 Alumni Reunion dinner on the 7th of December, 2018. First City University College has been a major player in the education industry for almost three decades, and has been recognized as an institution of higher learning in Malaysia which is active in producing award-winning and highly sought-after graduates from Foundation, Diploma, Degree and Post-graduate programmes in various disciplines.
First City University College 2018 Alumni Reunion aimed to gather alumni from the KBU era up to the most recent graduation to meet in a pleasant setting. The event saw participation by under a 100 alumni from graduating classes as early as 1991. The night provided an opportunity for the alumni to see how much First City University has evolved and grown throughout the years. Some of the alumni from KBU days, who had not stepped into First City University College's urban campus, were impressed by the institution's advancement in providing state-of-the-art teaching and learning facilities.
The event was graced by the presence of Tan Sri Dato (Dr) Teo Chiang Liang, Director of First City University College, Professor Dr. Mak Chai, Vice-Chancellor, Ms. Yeong Yin Cheng, Chief Operating Officer, Deans of Faculties, staff and alumni of First City University College.
The first Alumni Reunion Dinner was co-organized by First City University College and the alumni representative, amidst the intent to bring together the alumni, management and staff of First City University College on a dedicated night, where they get to meet each other, and share amazing success stories. The event had everyone taking a trip down memory lane, as it reunited long-lost classmates, friends, and educators.
On the night of the event, Mr. Ken, an alumni representative, conducted an ice-breaking session and carried out interesting interactive activities that gave the alumni an impromptu memory test, filling the venue with excitement and joyous moments. The highlight of the event was the presentation of certificate plaques to the participating alumni by Tan Sri Dato (Dr) Teo Chiang Liang.
First City University College is well-known for producing highly-employable graduates and successful entrepreneurs. Some of them had also garnered international and local awards, and have also built reputable reputation and portfolios, from business, education, engineering, Information Technology, to professional profession, and First City University College is proud to say that they are the products of this well-rounded institution.
Alumni of First City University College have successfully landed jobs in a broad career field holding the positions as a Managing Director, Director, Chief Executive Officer, Head of Packaging, Channel Account Manager, Software Engineer, Senior Solutions Architect, Indirect Tax Consultant, and successful entrepreneurs with established companies. Interestingly, some of the alumni are working in First City University as the Faculty Dean, Deputy Dean, web developer and executives.
One of the alumni who attended the event was Mr. Vince Tan, who now holds the position of Chief Executive Officer at Shock Media Studio, which is one of the leading Digital Marketing agencies in Malaysia. Mr. Vince graduated from the BSc Computer Science (Software Engineering) programme in 2002. Interestingly, Mr. Vince has also served First City University College as a lecturer for two years, teaching Multimedia subjects.
"I have known KBU International College (then) for a long time, even before my enrolment as my brother is also a successful alumnus of this institution. I enjoyed the time during my studies, and the knowledge I acquired from my degree is always brought into my line of work. I feel connected to this institution, as I feel it has contributed in many ways to my life and helped me to be where I am today", Mr. Vince shared.
Another alumna, Yeo Bin Shin, who graduated from the BSc (Hons) Software Engineering programmed stated, "It was a successful event. I got to meet some of my former batch mates, and catch up with them as it had been long past graduation. I also had the chance to make new friends for networking. I suggest this Alumni Reunion should be organized on annual basis, as I would to join this event again in the future", Yeo shared.
2018 Alumni Reunion dinner of First City University College was truly a memorable night and it was successful in bringing alumni from the past 27 years together, providing them with the opportunity to share success stories, which is hoped to inspire them to continue succeeding in their future undertakings. Wherever they are, they still bear the name of First City University College, as proud alumni.
First City University College promotes overall excellence among its students. Ideally located in the modern township of Bandar Utama, First City University College boasts a line-up of dedicated teaching staff with strong industry experience, ready to guide students towards achieving their dreams. First City University College opens every day for registration. Enjoy 50% off tuition fees for the year of 2019. January intake is in progress for Foundation, Diploma, Degree and Postgraduate programmes! Embark on your education journey, only at First City University College.